The Science Technology Department of Zhejiang Province recently published its "Notice of Publication of New Certified Provincial-level Corporate R&D Institutions in 2021". By virtue of its extraordinary innovation capability and powerful scientific research ability, Tongee Medical Technology Co., Ltd. ("Tongee") was duly certified as provincial-level hi-tech enterprise corporate R&D center.
"Provincial-level hi-tech enterprise corporate R&D center" is an initiative of the Science Technology Department of Zhejiang Province as part of its implementation of innovation-driven growth strategy so as to accelerate conversion of scientific and technological development as well as hi-tech industries. Each provincial-level corporate R&D center is recommended by the respective municipal science technology bureaus and reviewed by the Provincial Science Technology Department. All R&D centers are selected based on strict criteria set by the Department and as such possess the requisite qualifications to be recognized as such. Tongee has displayed significant strength medical innovation. It is therefore unsurprising for the company to be duly recognized and certified as a "provincial-level hi-tech enterprise corporate R&D center" for innovative therapy for metabolic diseases.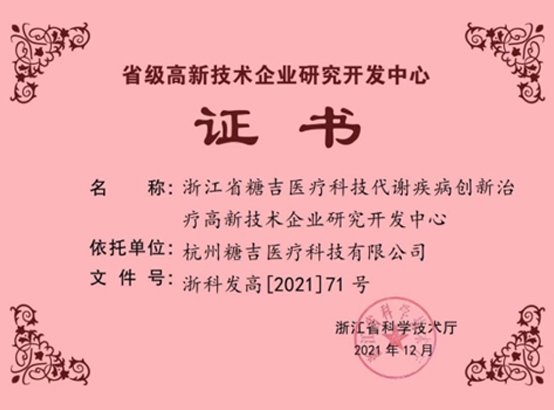 Since its incorporation in 2016, Tongee has assembled a team of top-level talents and senior experts in medical devices. An important result was the company's introduction of "gastric bypass stent system", an endoscopic interventional technology for metabolic disease patients.
In June 2021 Tongee opened another new R&D laboratory in Hangzhou,s Bingjiang District, boosting support for its development of many state-of-the-art technologies including innovative medical devices for metabolic diseases.;
Tongee has been devoting to research and development of new therapies for metabolic diseases such as obesity, Type II diabetes and NASH. The company currently employs several dozens of research workers, working out of 600 sq.m. GMP-compliant laminar flow room equipped with computerized materials testing devices, imaging instrument testing device, microscope, electrically-heated air-circulation furnace, high-temperature pipe-expanding equipment, chromatographic instrument, materials profile-forming machine and laser welders, among other state-of-the-art equipment.
It is understood that Tongee has previously been certified as a "municipal-level hi-tech enterprise corporate R&D center". Its acceptance as a "provincial-level hi-tech enterprise corporate R&D center" is in uncertain terms recognition of its sustained effort in innovative technology and accomplishments with respect to product development. In this regard Tongee Founder & CEO Zuo Yuxing indicated that Tongee will continue to invest in research on innovative technology for metabolic diseases in conformity with national industry policies and in keeping with the company's growth strategy. The company will showcase its strength in medical therapy research and contribute its effort to foster technological development in medical industry.